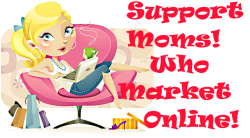 Advertise in the MomTraffic™ Newsletter! for Only $1 per day = $30.00 per Month!
Your Ads Will be seen first hand by our hungary for unique and innovative products Mom - Shoppers Subscribers, and those who support Moms who
Market Online!
The MomTraffic Newsletter goes out daily! to give advice, tips updates, and to send out Vendor Fair invites!
We at MomTraffic™ are convinced that Moms are your Target Audience!
Only $1
per day =$30 per Month! Your Ad displayed in the MomTraffic™ Newsletter! Upgrade Today!
Be Seen First!
isn't your business worth it?
Your Advertisement will be seen by over 2000 moms and the list grows daily!!!

Check out a quick preview here into our Newlsletter and how your ad will be placed: